ABC releases excerpt from Mel Gibson's GMA interview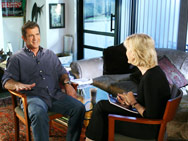 ABC released this excerpt today, and will release more from Mel Gibson's interview on Good Morning America soon:


Diane Sawyer: "What did you think it was?"

Mel Gibson: "Me? It was just the stupid rambling of a drunkard, you know and ... what I need to do to heal myself and to be assuring and allay the fears of others and to heal them if they had any heart wounds from something I may have said. So, this is the last thing I want to be is that kind of monster," Gibson said.
Read more about Mel's interview here. Read the rest of ABC's advance coverage here.

From ABC News: "Watch Sawyer's exclusive interview with Mel Gibson Thursday, Oct. 12 and Friday, Oct. 13 on "Good Morning America," which airs across the country from 7 to 9AM."



Technorati Tags:

Apocalypto

,

Mel Gibson

,

Diane Sawyer

,

Good Morning America





Photo: ABC News/Good Morning America